Golden Ticket Bars
Everyone wants to find the golden ticket ... you'll be a winner with all your clients!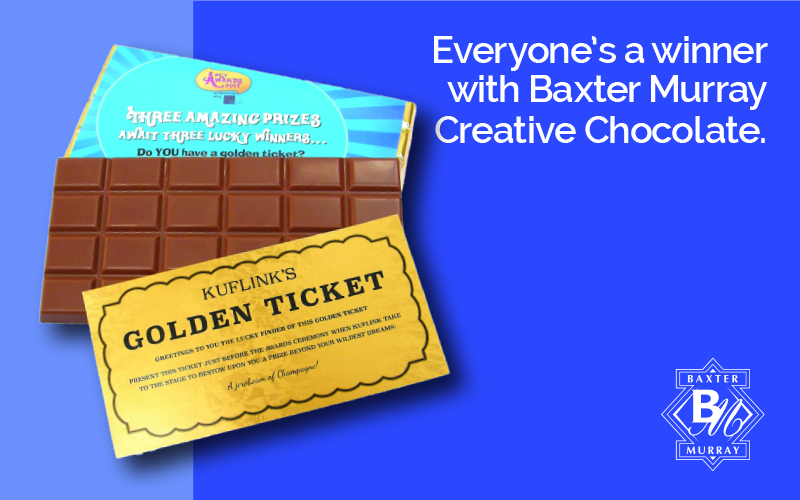 Golden Ticket Chocolate bars
Who isn't intrigued when they receive a chocolate bar with the added extra of a golden ticket.
We all instantly go into Charlie Bucket mode and tear off the chocolate bar wrapper, in the hope that we've won a prize.You can harness our love of the golden ticket chocolate bar to create interest in your business.
Branded chocolate bars with golden tickets make fantastic promotional gifts and can be given to clients at all of your business events, used as a direct mail gifts, and they can be used as an ice breaker with prospective clients or sweet desk drop within your organisation.
You can include a golden ticket under the wrapper of all your promotional chocolate bars with one or a selection of winning tickets.
We can offer you freshly handmade Belgian chocolate bars, in a choice of sizes and with a range of branding styles.
Adding golden ticket chocolate bars to your marketing campaign will help to develop your business relationships. People love to be given a gift and a quality chocolate gift will always be remembered and go a long way to enhancing relationships with your existing clients.

Golden Ticket chocolate bars are also a super tool to raise brand awareness, not only will your branding be on the packaging, the golden ticket can be used to pass on additional marketing messages. At trade exhibitions, golden ticket bars are a way to draw people to your stand and the ticket can also be used for data capture and lead creation. Customers are much more receptive to a company that gives them free gifts, especially quality chocolate gifts.
Call us today on +44 2890471310, we'll be glad to help with your next promotional chocolate campaign.