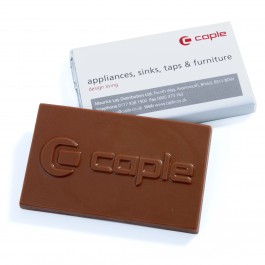 Small Bespoke Chocolate Bar
Creating a bespoke 90 x 50mms chocolate bar is simple, call us for more details.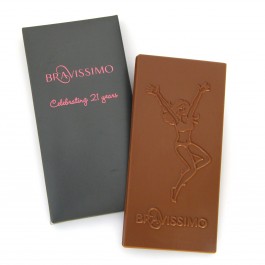 Medium Bespoke Chocolate Bar
155 x 75mm bespoke bars are handmade by our expert chocolatiers in any qty.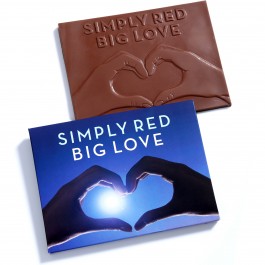 Large Bespoke Chocolate Bar
To create a 195 x 150mms bespoke design , call 028 9047 1310 or click the visual for details.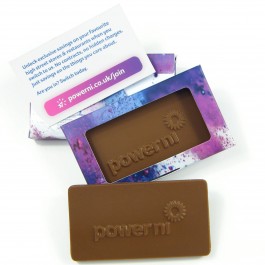 Personalised Window Box Chocolate Business Card
Chocolate business cards are memorable & suitable to distribute at all business events when you want to standout from the crowd.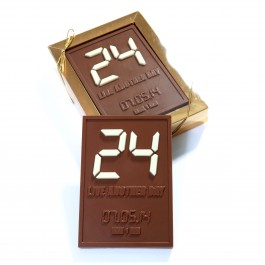 Bespoke Chocolate Bar Styles & Packaging Ideas
When you're not sure what you are looking for, a little inspiration is useful. Take a look at the variety of chocolate bars & packaging styles we have created for our clients.
Chocolate Bar Fulfilment Service
A delicious branded Willie Wonka style bar & golden ticket posted direct to employees.
Bespoke Chococolate Bars are excellent promotional gifts which will get your audience talking about your brand!
Bespoke Chocolate Bars are perfect promotional gifts for making a lasting impression, they are an incredibly cost effective method of advertising. Not only will the gift of delicious Belgian chocolate help to maintain customer loyalty, the unique nature of the chocolate gift will also encourage people to show the bespoke chocolate bar to their collegues, family and friends,organically bringing your brand to a wider audience.
Bespoke chocolate bars are always welcome promotional gifts and work well given at Trade Shows, Conferences and Exhibitions.As direct Mail gifts and Desk Drops.The packing is full colour branded with your logo and marketing information and if you want to add a golden ticket or insert, that's possible too. Delivery can be in bulk to one business address, in batches across all your sites, individually to clients or staff in the UK, Ireland or further afield. We offer 2,4,6 week leadtimes or if your short on time we can also fast track your order. Ordering is simple, supply your artwork and tell us how many you need, where and when you need them delivered, it couldn't be easier!
We offer a professional corporate chocolate service which is flexible to accomodate your business needs.