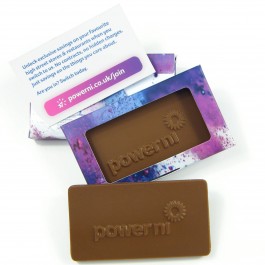 Personalised Window Box Chocolate Business Card
Chocolate business cards are memorable & suitable to distribute at all business events when you want to standout from the crowd.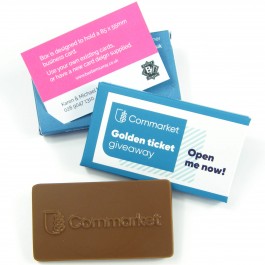 Personalised Box Chocolate Business Card
Chocolate business cards are effective corporate chocolate gifts, perfect to keep your business details in front of clients & guests.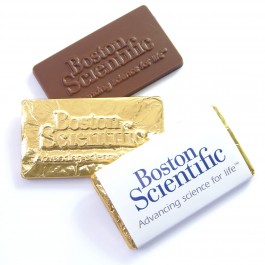 Personalised Wrapper Chocolate Business Card
A quality & unique chocolate business gift, which will get clients talking to you and about you to their colleagues.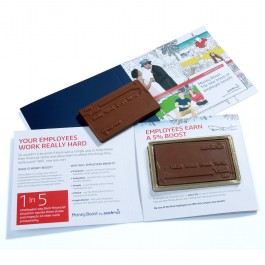 Marketing Literature with Chocolate Business Card
An ideal promotional chocolate gift for business & product launches, trade shows, conferences & an excellent direct mail gift.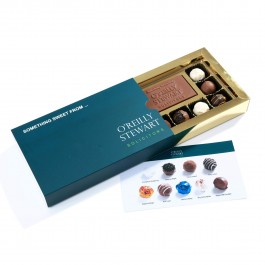 Truffle with Chocolate Business Card Gift Box
A luxury chocolate corporate gift perfect to impress all your important clients.Packed with a chocolate business card & truffles.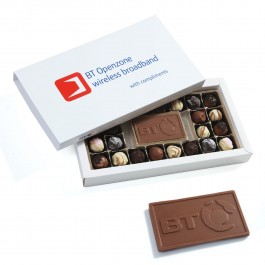 Large Truffle with Chocolate Business Card Gift Box
A high end luxury chocolate corporate gift box, comprising award winning truffles & your chocolate business card.
Chocolate Business Cards are very useful chocolate promotional products.
When prospecting for new clients chocolate business cards prove to be an ice breaker, creating a topic of conversation & delicious introduction to you and your company.
They are durable enough to be sent through the post as a direct mail gift or given to visitors at your trade show or exhibitions stand. When launching a new business or product you can incorporate your chocolate business card into your sales and marketing literature. Prospective clients will enjoy a coffee while eating your logo and digesting your marketing information. Chocolate corporate Christmas gifts are most impactful when the senders branding is very clear. We also produce a box of our award winning truffles with a chocolate business card at the centre. All are packaged inside a premium branded box so clients will not forgot the gift or the sender. Add chocolate Business Cards to your list of essential marketing tools today !