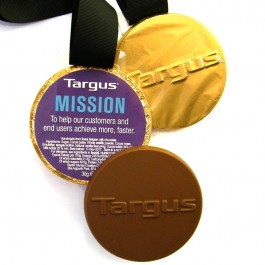 Bespoke Chocolate Medals
Chocolate medals are a desirable promotional chocolate gift, perfect to enhance all sports events and award ceremonies. Handmade and branded to your specification.Create your custom design today.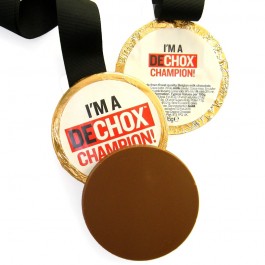 Promotional Chocolate Medals
Gold chocolate medals are a clever and delicious chocolate promotional giveaway or corporate gift, perfect to commemorate and celebrate your company at award ceremonies and sports events.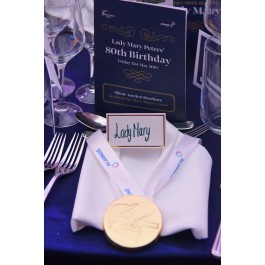 Corporate Chocolate Medals
A stunning chocolate corporate gift, eye-catching finishing touch to your awards ceremony dinner table. Guest love to share these images across their social media accounts.
Everyone's a winner! Our expert chocolate team produce a selection of chocolate medals for clients. Some request chocolate medals with ribbon in specific colours or with their branding added, we can supply both styles of ribbon. We also have requests for gold chocolate medals in small quantities, we can accommodate a small order or we can produce chocolate medals in bulk. Each chocolate is handmade so we can fulfil an order of any size. We can also create a bespoke chocolate featuring your logo, these are lovely promotional gifts to commemorate an anniversary event or awards ceremony. For the most delicious chocolate gold medals give us a call, we'll be delighted to help with chocolate Olympic medals for everyone!