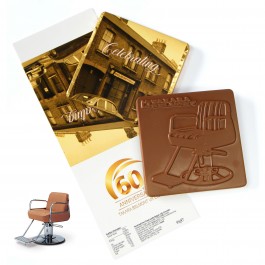 Customise a Chocolate Bar - Line Art of Your Product in Chocolate
Customized chocolate bars are perfect to celebrate all your business successes!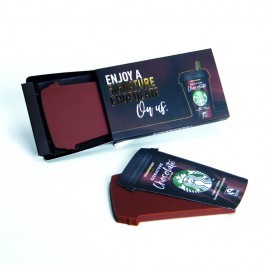 Chocolate Coffee Cup Shaped Chocolate Bar
Customised coffee cup shaped bar in a luxury sliding box finished with a gold hot foil print.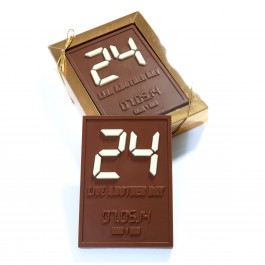 White Chocolate Detail on a Customised Chocolate Bar
Customised chocolate bars are perfect to promote or launch any product !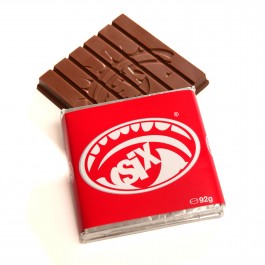 Business Development Tool Custom Chocolate Bar
Developing new markets can be challenging, break the ice with a custom chocolate gift.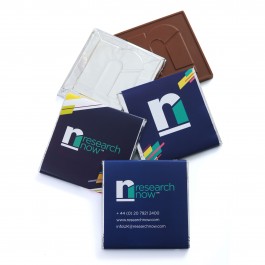 Range of Tailored Wrappers with One Custom Bar Design
One custom bar design, countless promotional opportunities.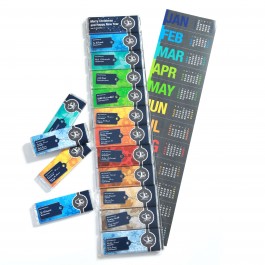 12 Chocolate Bar Calendar - Custom Chocolate Christmas Gift
The perfect customised chocolate gift to keep your brand front and centre for a full year!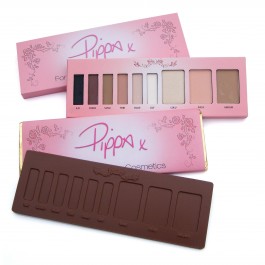 Create A Chocolate Product Replica
Include chocolate in your press pack, it's perfect to get the attention of the media.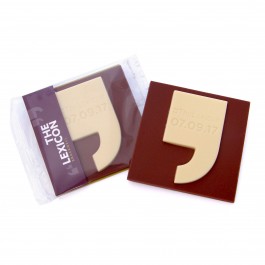 A Branded Card Backing a Customised Chocolate Bar
Promote the opening of your newly refurbished premises with customized chocolate.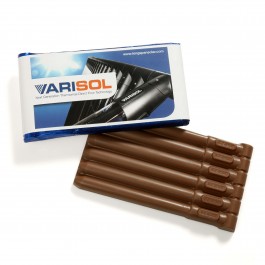 Chocolate Replica of your Product
A delicious and memorable promotional gift perfect for all your audience.
Sliding Two Part Box Containing a Replica Chocolate
Link fantastic taste and memory to your product with a replica made of chocolate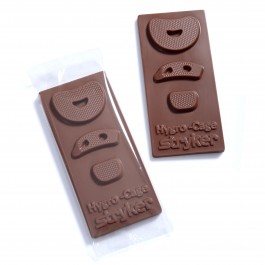 Add a Flavour or Texture to your Customised Chocolate Bar
Custom shaped chocolate with an added element of surprise!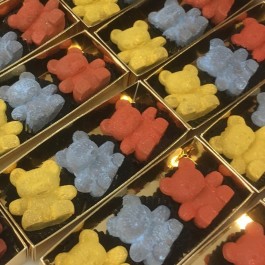 Adding Colour & Flavour to Customised Chocolates
Enhance your customised chocolates with a sprinkle of colour!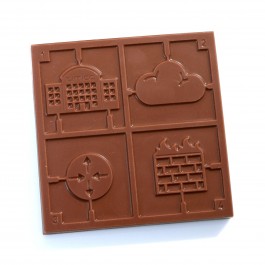 Cellophane Packaged Custom Chocolate Bar
Custom chocolate bars in cellophane only, allowing you to produce your own packaging.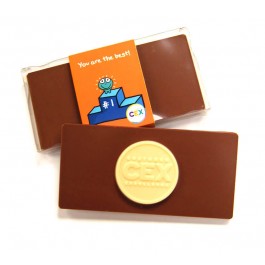 Clear Box holding a Customised Chocolate Bar
An eye-catching and welcome corporate chocolate gift, perfect for any occasion.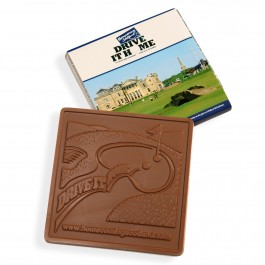 Any Size Customised Chocolate Bar
Promote your business or event with a fully customised chocolate bar, 105 x 105mms.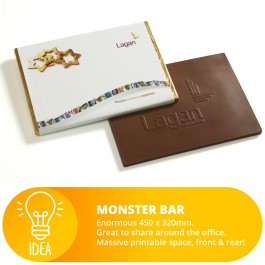 Custom Giant Chocolate Bar
A giant promotional chocolate bar, a perfect prize or gift for the office to share.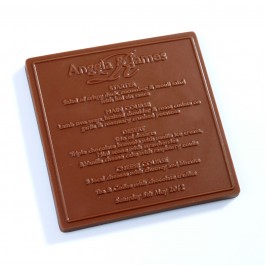 Chocolate Invitation or Chocolate Place Setting Customised for You
An edible dinner menu card or invitation a quirky alternative to a traditional printed card.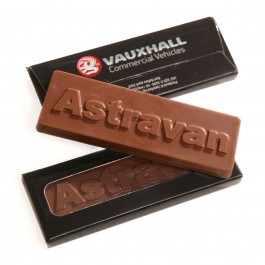 Mini Custom Made Chocolate Bars
Perfect to craft with your mark as a sweet giveaway from your car showroom.
Custom Chocolate Bars
Get your marketing message out there in delicious Belgian chocolate, that way you'll link fantastic taste and memory to your brand. Milk, white,dark or ruby chocolate ... which is your favourite ?
When it comes to customising a chocolate bar for your business, the possibilities are endless. We can offer most sizes and shapes of bars customised with your logo or as a replica shape, presented in full colour branded packaging. We also offer the choice of including popping candy or honeycomb to your chocolate, a flavour such as, chilli, mint, sticky toffee pudding or a dusting of colour.
To discuss your ideas give us a call, we're happy to help!