The Battle for the Best Promotional Chocolate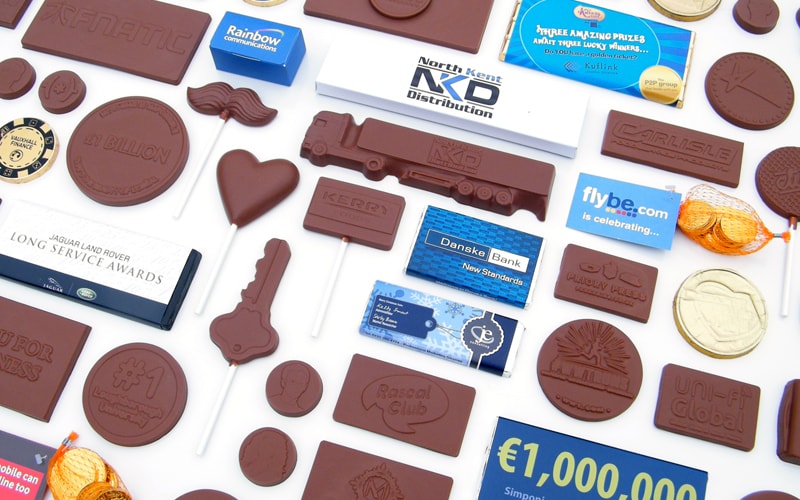 Baxter Murray was created with the intention of delivering the highest quality promotional chocolate to businesses across the UK and Ireland. As a leader in the chocolate solution domain, we receive many questions from the business community on which of our promotional chocolates is the best advertising tool.
In this post, we're going to review our range of promotional chocolates in order to help you make the right choice for your business. We'll cover everything from chocolate bars, chocolate coins, chocolate lollipops and more.
Standard and Message Bar - Who doesn't love a chocolate bar? Baxter Murray produces delicious, Belgian chocolate bars, break off style or with a seasonal or business message. These include Merry Christmas Bars, Happy Easter Bars, Thank You For Your Business Bars and so much more.
Example Use
Evoke the festive spirit with your clients by gifting them a branded Merry Christmas Chocolate Bar at a corporate event. It's the most wonderful time of the year to build brand awareness!
Standard Chocolate Coins - The ol' faithful promotional chocolate. Baxter Murray chocolate coins are highly versatile and can be used for any occasion. With a range of diameters, branding options and chocolate types, you can really make these personalised chocolate coins your own!
Example Use
Due to their manageable size, chocolate coins are the perfect promotional gift to include in delivery packages. Promotional chocolate coins will add to your customer's excitement for their items, leading to increased retention rates.
Chocolate Medals - Chocolate medals are the perfect promotional gift for your competitive client event. They are highly customisable - choose from a variety of sizes, branding options, chocolate types and ribbon colours.
Example Use
Go-karting, football, bowling - all team building activities where the winner can be gifted a delicious, Belgian chocolate treat. Add your logo and marketing message to the packaging - it's a great way to reinforce your brand on the podium. Chocolate medals are highly versatile and can also be used for award ceremonies and employee recognition purposes.
Bespoke Lollipops - Our branded chocolate lollipops are perfect for trade giveaways. No matter your business niche, we have the ability to create the perfect bespoke chocolate lollipop for you (and your customers). Click here to see some examples of our bespoke lollipops that we have created for customers in the past.
Example Use
Whilst at trade shows, hand out a combination of flyers and bespoke chocolate lollipops that are the perfect match for your business type. They're a great way to break the ice, resulting in enhanced engagement with potential customers.
Truffle Boxes - Our award-winning chocolate truffles are highly customisable and will surely resonate with your audience. With a variety of box sizes, truffle selections and branding options to choose from, your customers will know exactly where these sweet treats came from.
Example Use
Organising a corporate dinner event? Our Belgian chocolate truffle boxes are the perfect end to a delicious meal. With a vast amount of advertising space, your brand is sure to leave a sweet taste in the mouth of your guests.
Coin Nets with Personalised Tag - Make your customers' eyes light up by gifting them our personalised chocolate coin nets. We offer a variety of net sizes and your very own personalised tag for branding purposes.
Example Use
If your business is running a direct mail campaign, why not include our chocolate coin nets to highlight special or money-saving offers? It's a surefire way to enhance customer loyalty to your brand, leading to increased retention rates and a stellar business reputation.
Bespoke Chocolate Truck - Our promotional chocolate trucks will deliver a taste sensation to your customers. The personalised full-colour box gives you plenty of space to add your branding, and the silky-smooth Belgian milk chocolate will add that extra wow factor for your audience.
Example Use
Part of a logistics company? Our bespoke chocolate trucks are the perfect promotional tool. Our bespoke capability lets you add a raised business logo to the chocolate itself. The high-quality design and aesthetic finish of our bespoke trucks will enhance your business reputation and increase the likelihood of new contracts.
There you have it! A review of a selection of our promotional chocolates to help you make the right choice for your business.
But wait, there's more! On each and every product, Baxter Murray offers a bespoke chocolate option. Here, we work closely with you to match your exact requirements and create the promotional chocolate of your dreams.
Use our simple ordering system today at baxtermurray.co.uk!