Showcase Your Business Using Branded Chocolate Bars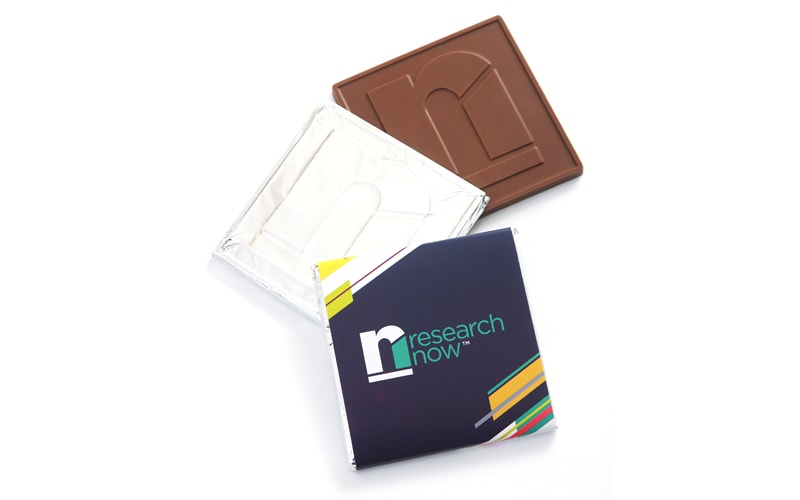 Whether you want to thank your employees for a job well done or promote your brand at your next corporate event or trade show, branded chocolate bars are perfect ways to showcase your business and spread brand awareness. Using personalised chocolate to help get your business noticed is a sure way to inspire and entice customers to find out more about your company because nobody can resist a delicious bar of luxury, high-quality chocolate!
Our promotional chocolates at Baxter Murray are in a league of their own. You can customise your chocolate bars in any way that you like, which means you can get creative with your design and choose one that best reflects your brand.
Bespoke Chocolate Bar
The Bespoke Chocolate Bar is the perfect choice for business owners who want to take full control over the design and appearance of the chocolate. You can have your company logo or message raised out of the chocolate for a stand-out 3-D effect that's sure to grab people's attention.
You can also choose the size and packaging style of the chocolate bars, which is perfect for adding your own personalised touch. You can have your branded chocolate bars wrapped in a full-colour sleeve and cello wrap, full-colour sleeve and foil or have them delivered in a full-colour box. Each variation of packaging is 100% personalised, so you can have your logo or slogan printed directly onto the packaging.
Standard and Message Bar
If you prefer a traditional bar of chocolate that customers can share around the table or snack on while watching a movie, the Standard and Message Bar is a perfect choice. Made from the finest luxury Belgian chocolate, this bar is ideal for marketing your business to people with a great taste.
Promotional chocolate bars like this can be used as a giveaway gift at a trade show or business event to help ensure people will remember you and your brand. You can upload your own artwork, and have it printed on the packaging for a truly unique look. Each bar of chocolate has been freshly handmade and packaged to perfection, ensuring top quality with each purchase.
If you're interested in our promotional chocolate bars to help advertise your brand to the masses, you can check out the complete collection here or email us for more information at info@baxtermurray.co.uk