5 Reasons Chocolate is the Best Corporate Gift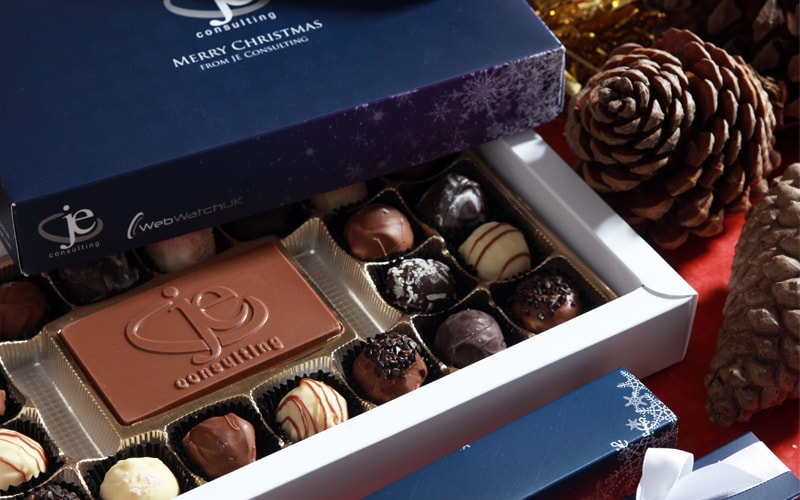 Fun fact to begin with: every ten years or so, a typical adult eats their own body weight in chocolate! As the famous John G. Tullius quote goes – '9 out of 10 people say they like chocolate... the 10th person always lies'
So, apart from the obvious - everyone loves chocolate, here are 5 reasons why we believe chocolate is the best corporate gift;
1. Chocolate Creates Smiles
When your buying gifts in the hundreds or thousands, it's impossible to take each person's likes and dislikes into account. Sending out corporate gifts means it's essential to appeal to the masses.
People automatically associate chocolate with that warm, sweet feeling of happiness. Even those of us who claim not to be chocolate-eaters, can't help but smile when we are gifted with a delicious box of chocolates. As the old saying goes - it's the thought that counts!
Every time your customers reach for a piece of that tasty chocolate, they will associate that sweet, happy feeling with your brand.
2. Chocolate is a timeless classic
Luxury chocolate is not just delicious, but trendy too. It can be bought or designed with up to date, contemporary styling of your choice.
Not only are chocolates always fashionable, but they are a blank canvas for your branding! Choose something personal that resonates with your clients but also that sticks in-line with your brand guidelines.
3. Teams love to share
Make sure not to leave anyone out! A big box of luxury chocolates is the perfect gift to send out to your customers for their whole team to enjoy.
And, speaking of sharing - your clients may even take pictures of your gift and post them to their social media channels. Brand up your chocolate and take advantage of a bit of extra publicity!
4. Chocolate is versatile
Versatility is key when it comes to corporate gifting. From personalised lollipops to branded bars at events, chocolate can hit the spot on every occasion.
At Baxter Murray, we offer a unique array of chocolate solutions to suit your business, whatever the promotional need or event - check out our full range of bespoke corporate chocolates here.
5. Ease of delivery
There are not many gifts that can be organised and delivered hassle-free to your clients the way chocolate can. When ordering your corporate chocolate from Baxter Murray Creative Chocolate, we do all the hard work!
Give us a call at Baxter Murray Creative Chocolate today on +44 2890 471013, we'll be delighted to produce just the right chocolate corporate gift for you.