Engage your clients with a branded Truffle Box
Use a branded truffle box to connect with your clients at any time of year!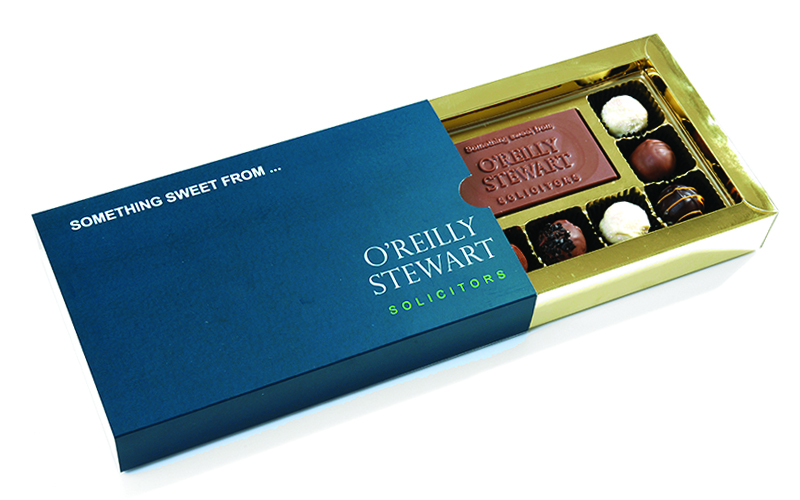 When choosing a corporate gift to impress and delight your clients it's always important to remember that …
'9 out of 10 people say they love chocolate
…… the 10th person always lies'
John G. Tullius
When it comes to life's little luxuries,everyone has good quality chocolate at the top of their list. It's a multipurpose corporate gift, which is suitable for and appreciated by everyone of all ages and both sexes.
It's a lovely gift to share around the office or to take home to enjoy with the family. It's guaranteed to be culturally acceptable and inoffensive as an aspect of any business event, celebration or marketing activity.
At Baxter Murray we have created the winning formula for a business gift, by combining the nation's love of chocolate with our fabulous and flexible corporate gift service. We produce and supply directly to you branded truffle boxes containing (selections of 2 - 48)of our multi award winning truffles. Each one freshly handmade and decorated for you and your clients to enjoy.
Your Brand Not Ours – Branded with YOUR Details!!
We appreciate your preference is to have your business name and brand on all gifts you distribute. Not only can we provide stylish and premium printed packaging & menu cards but with the aid of our in-house mould making facility we can produce a hand-made chocolate bar, moulded with your logo or marketing message as the centre piece of your truffle selection.
No matter what the occasion or quantity you need, we have the perfect box for you.
When it comes to Gala Dinners, Press Packs, Product Launches, Goodie Bags, Welcome gifts, Staff Rewards, Customer care and Direct Mail gifts to seasonal treats and of course Christmas gifts we can create just the perfect truffle box gift for you.
Choose from our award winning selection.