The Best Corporate Chocolate Gift Ideas
Want to sweeten the deal? Choose Baxter Murray Creative Chocolate!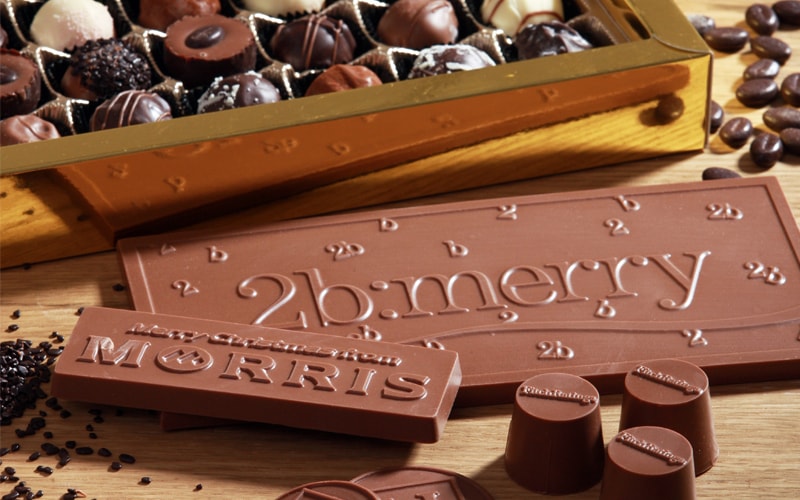 Baxter Murray Creative Chocolate produce high-quality chocolate solutions to compliment the marketing efforts of UK and Ireland businesses. In this post, we are going to offer our best corporate chocolate gift ideas. We'll take an in-depth look at our extensive corporate chocolate range and provide ways in which to use them effectively to enhance your business relationship with staff, customers and clients.
Why give corporate chocolate gifts?
One of the best things about chocolate is its versatility. Do you have a stand-out employee that deserves some recognition? By gifting them a freshly made Belgian chocolate goodie, not only will you lift their spirits, you'll demonstrate just how much you appreciate their hard work.
Perhaps you have a loyal client that has stuck with your business through thick and thin. Our corporate chocolate gifts can serve as a little reminder of just how much you have valued their custom over the years, further enhancing their loyalty to your brand.
Nowadays, many consumers are bombarded with a slew of bog-standard promotional messages from businesses trying to sell them something. However, by including a corporate chocolate gift in your direct mail campaigns, your brand will stand out from the rest by evoking an emotional response and sparking interest into what your business has to offer.
Corporate chocolate gift ideas by Baxter Murray Creative Chocolate
Crafted in the finest Belgian chocolate by our expert chocolatiers, our corporate chocolate bars are the perfect promotional gifts to develop your business to business relationships, raise your brand's awareness at any of your business events, help generate leads and referrals. You can customise as you see fit with a range of packaging styles, sizes, foil colours and chocolate types. Add your logo and marketing message to the spacious advertising area to add to their professional finish.
Our flexible bespoke service enables you to craft your very own, unique corporate lollipop to hand out at trade shows or exhibitions. Want to have your logo imprinted on delicious Belgian chocolate? No problem, we can do that. Plus, you can select from a range of branded packaging styles, including double-sided backing cards and personalised labels.
Our corporate chocolate truffle boxes are complemented by premium quality packaging that oozes class and sophistication. They are the ideal tool to improve customer image and create a positive feeling which increases loyalty. They make the perfect accompaniment to any gala, awards or charity fundraising dinner. Or to celebrate an achievement or anniversary within your business why not gift your clients a box of our award winning truffles which has a bespoke chocolate business card as part of the selection.
Corporate chocolate coins have an abundance of uses. Why not add a sweet treat to client correspondence mails to show appreciation for their custom? It's a great way to foster brand loyalty. Our chocolate coins come in a variety of delicious flavours, including white, dark and milk Belgian chocolate.
Click here and here to view the rest of our range corporate chocolate gifts. Once you have made your final decision and customised accordingly, simply enter in your desired quantity and delivery schedule. If you need your chocolates in a hurry, we also have a fast track delivery service. Order online today at BaxterMurray.co.uk.