Your Guide to Ordering Personalised Chocolate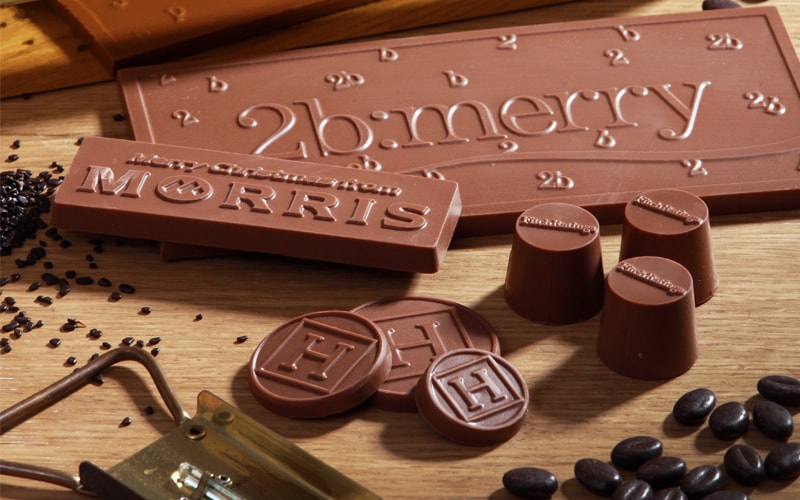 At Baxter Murray Creative Chocolate, it is our mission to provide finest quality chocolate solutions to compliment the PR and marketing activities of businesses throughout Ireland and the UK.
In order to do this, we've made it easy for you to order your bespoke, personalised chocolate! You can choose the right product, create the perfect packaging and have unlimited customisation options with your own moulds and designs.
Here's the ultimate guide to ordering personalised chocolate from Baxter Murray Creative Chocolate…
Step 1: Select a product
Browse and select from our extensive range of chocolate products. If you don't see what you're looking for, get in touch with us as we can make almost anything! We offer delicious handmade promotional, seasonal & bespoke chocolate, so you are guaranteed to find something to suit you!
Need to promote your business at an upcoming trade show? Check out our extensive range of Promotional Chocolates available here.
Perhaps you want to gift your employees or send out some presents throughout the holidays to show your appreciation… You can discover our Seasonal chocolate range today!
Step 2: Customise Your Product

Here is where you can choose the style of packaging you want for your product. You'll also choose the chocolate mould and design.
You can download the design templates for both the chocolate mould and packaging easily on our website to make sure everything is perfect before your place your order.
Step 3: Choose your chocolate and quantity

The next step is selecting the chocolate flavour - choose from white, milk or dark. By determining the quantity you want, the price will automatically update on your order.
Step 4: Add to basket and check out
Finally, all that is left to do is; add the products to your basket and proceed to checkout.
Simply wait to receive your delicious chocolate. Don't panic though, you don't have to wait too long as we also offer a Fast Track service for those facing tight deadlines.
It's as easy as that!
We are passionate about our chocolate and will work with you to create truly attention-grabbing, personalised chocolates that are just perfect for your occasion, event or gift. We always strive to produce the best chocolate solution for you.
So, why not give us a call at Baxter Murray Creative Chocolate today… with your imagination and our chocolate know-how, the possibilities are endless!