Promote Your Brand with our Match-Winning Sports Chocolate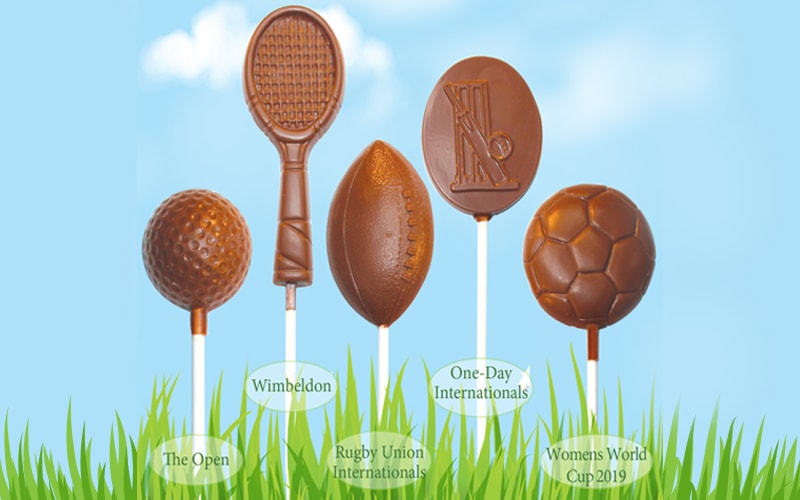 Baxter Murray has over 20 years experience in supplying the finest quality, chocolate solutions to complement the marketing activities of businesses across the UK and Ireland.
Our range of sports-themed chocolates are sure to garner the right attention for your brand, but how do you use them effectively? Well, in this post, we're going to provide a list of each of our sports chocolates and offer some inspiration for possible uses. Get the ball rolling in promoting your business, product or event at baxtermurray.co.uk!
Sports chocolates by Baxter Murray Creative Chocolate
Each and every sports chocolate on sale at baxtermurray.co.uk is freshly handmade to order by our expert chocolatiers and is available in delicious white, dark and milk Belgian chocolate. If you want to utilise our sports chocolates as an effective promotional tool for your business, add your logo and marketing message to the various styles of packaging that we offer. You can choose from full colour double sided backing cards, personalised labels and black and white personalised labels.
How to order sports chocolates
To order our promotional sports chocolates, simply enter in your desired quantity and delivery schedule at baxtermurray.co.uk. Delivery costs are included in the overall pricing and if you need your sports chocolates fast for an upcoming event, don't worry. We also a fast track delivery service that will have your promotional chocolates with you faster than you can say Baxter Murray Creative Chocolate!
How to use sports chocolates
Sports chocolates at baxtermurray.co.uk
Serve your customers our 'ace' range of tennis chocolate lollipops.
Our delicious football chocolates are sure to hit the back of the net with your audience.
Hit your customers for six with our Belgian chocolate, cricket lollipops!

So there you have it. A comprehensive list of the amazing sports chocolates that we offer here at Baxter Murray Creative Chocolate. Click to view the rest of our promotional chocolate and bespoke chocolate range. Once you have selected your favourite, be sure to order online today at baxtermurray.co.uk!