How to Use Branded Chocolate Coins
Everyone loves a chocolate coin. They're delicious, versatile and more importantly, they're branded with your details.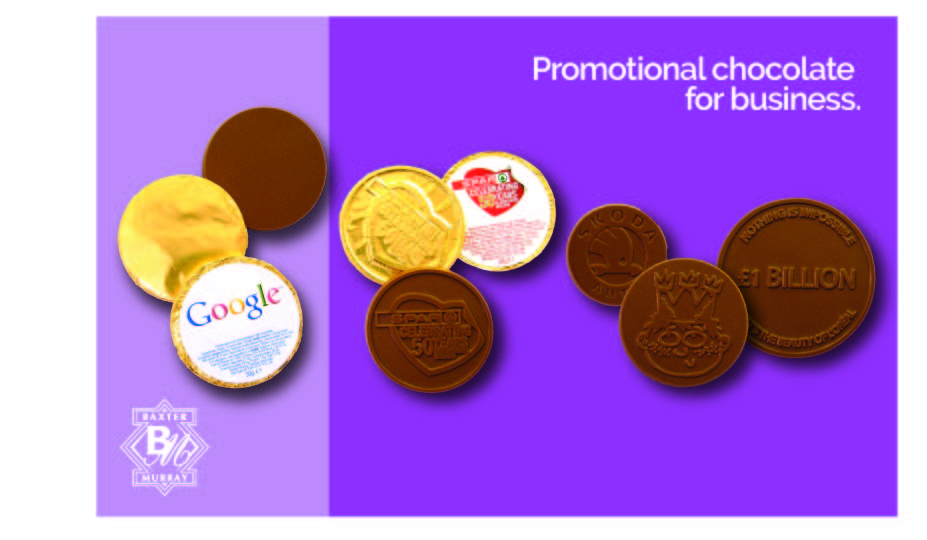 In this post, we're going to take a deep-dive into our branded chocolate coins, offering our tips and tricks on how to use them effectively to promote your business or event. Remember - there's no better currency than delicious, Belgian chocolate!
Chocolate Coins handmade by Baxter Murray Creative Chocolate
Our chocolate coin product range comprises of standard chocolate coins and bespoke chocolate coins.
All Baxter Murray handmade chocolate coins are available in milk, white or dark Belgian chocolate, in a variety of sizes - 60mm, 75mm, 90mm. Customers can choose from either our bespoke or standard coin corporate service. If you choose the bespoke option we will produce a coin with your logo or message raised out of the chocolate, with further branding included on the label adhered to the back of the coin. Standard design coins give you the option of branded the packaging on one or both sides.
Visit here and here to view examples.
How to order branded chocolate coins
To order our promotional chocolate coins, simply enter in your desired quantity and delivery schedule at baxtermurray.co.uk. Delivery costs are included in the overall pricing and, if you're in a hurry, we have a fast track delivery service available for fast approaching promotional events.
Uses for branded chocolate coins
Direct Mail Campaigns - Thank existing clients for their custom or remind them of your brand and service at any time of the year.
Trade Shows and Exhibitions - Giveaways at your trade stand to create brand or new product awareness.
Desk Drops - Say thank you to your team for a job well done.
Press Pack - Branded chocolate coins will create a talking point at the launch of a new book or business expansion.
You can also check out the rest of our amazing promotional chocolates. We also produce high-quality, seasonal chocolates and a variety of bespoke products that ensure that all your needs are met. Order online today at baxtermurray.co.uk!