Luxury chocolates are the perfect gift to thank clients at Christmas!
The perfect combination of YOUR brand and our delicious chocolates.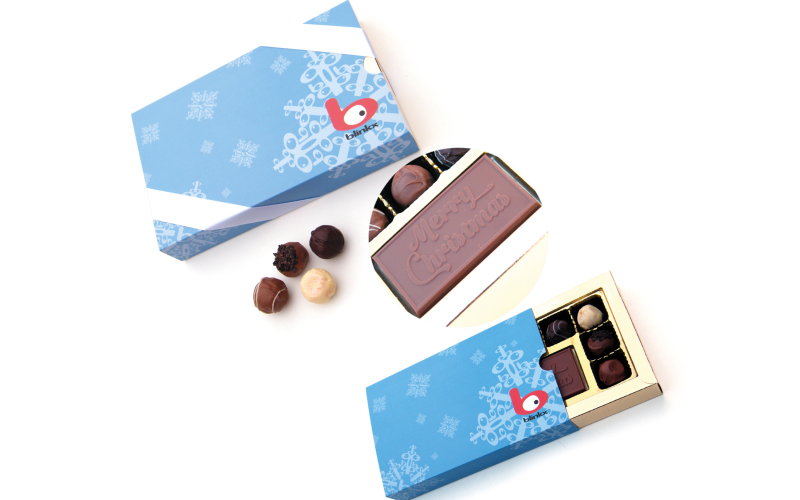 As the end of the year gets closer, we naturally being to take stock of the business year that's been, as well as the clients we have worked with and would like to thank.
Giving customers gifts at Christmas shows them that their business means a lot to us and that their support throughout the year has been valued. It also offers you the opportunity to strengthen your bond with them for the coming year, so the gift should be a memorable one.
People will always remember how a gift makes them feel, so make them feel very special and appreciated with an eye-catching, hand crafted gift that looks like time was spent to select and create it, just for them. It should be a quality gift which will reflect positively on your organisation and the high esteem in which you hold your client.
A gift which is suitable for clients of all ages, both sexes and is universally acceptable in the workplace.
The answer to your gift dilemma is ….. CHOCOLATE, luxury, beautifully packaged, delicious handmade chocolates. Hand crafted by Baxter Murray Creative Chocolate.
We have the perfect recipe for your corporate Christmas gift. We combine your brand and seasonal marketing message, with our finest handcrafted Belgian chocolates to produce a luxury chocolate gift your clients will be thrilled to receive!
We offer a professional, flexible & reliable business to business corporate chocolate service, offering our range of premium branded boxes filled with our multi award winning mouth-watering truffle selection.
Our Truffle box collection includes a host of beautiful handcrafted boxes in sizes, suitable for all your entertaining, celebrating and gift giving needs. With your seasonal and marketing messages produced as subtle or as direct as you like.
From branded boxes of two for Gala Dinners and Novelty shaped Christmas tree boxes with branded tags for Staff parties and desk drops, to premium Christmas gift boxes of four to forty-eight, we are sure to have just the right corporate gift to delight and endear your clients this coming festive season.
When selecting your corporate Christmas gift, don't forget;
'9 out of 10 people say they like chocolate, the 10th person always lies.
John G. Tullius.
Get in touch and order your Corporate Christmas Gifts today.