Order Amazing Chocolates Online
Baxter Murray are a leading manufacturer of chocolate solutions for businesses across the UK and Ireland.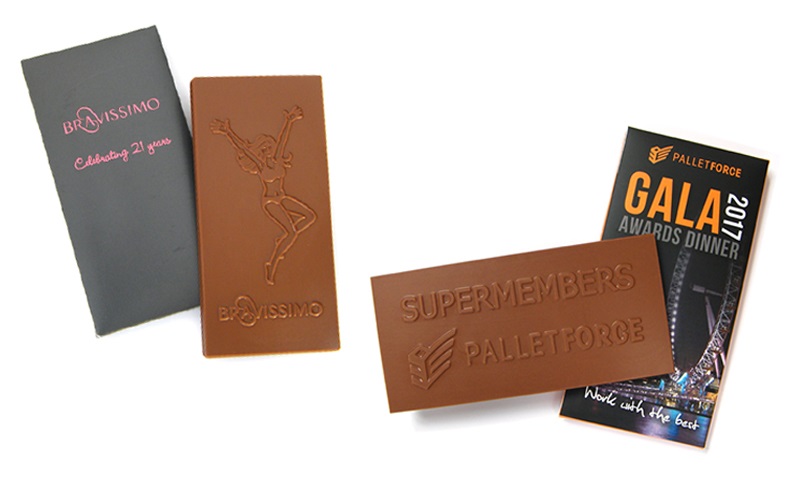 Are you wondering about which chocolates are the right fit for your brand? You're in luck! In this post, we're going to take a look at a selection of our promotional chocolates, seasonal chocolates and bespoke chocolates in order to help you make the right choice for your business. To finish, we'll give you the low-down on how you can order amazing chocolates online at baxtermurray.co.uk.
Promotional Chocolate
If you're looking for an effective way to advertise your business or event, your search is finally over. At baxtermurray.co.uk, you browse and select from a host of promotional chocolate products that are sure to spark interest in your brand. See some examples of our promotional chocolates below.
Seasonal Chocolate
There's never a wrong time to eat delicious Belgian chocolate. Baxter Murray offer an extensive range of seasonal chocolate products that are the perfect marketing tool for any time of year or occasion. See some examples of our seasonal chocolates below.
Christmas Chocolates - The festive period is a time for giving Christmas lollipops, chocolate bars, coins nets and more to customers, client's and employees.
Sports Chocolates - Celebrate massive sporting events by gifting luxury Belgian chocolate goodies to your business stakeholders.
Easter Chocolates - Chocolate is synonymous with Easter time. So why not carry on the tradition by handing out Easter chocolates at trade shows and exhibitions?
Bespoke Chocolate
Baxter Murray have a unique capability of delivering bespoke chocolate products, tailored to your exact needs. When you select from our bespoke chocolate range, we work closely with you to create your ultimate end product. For example, you can get your business logo raised out of a chocolate bar, lollipop, coin or medal, which is sure to leave a sweet taste in the mouth of potential customers. See some examples of our bespoke chocolates below.
Unusual Chocolate Projects - Browse and gain inspiration from previous chocolate projects that were created especially for Baxter Murray customers.
Replica Chocolates - Our bespoke replica chocolates are the perfect solution for a new product launch. And they certainly taste better than the real thing!
Bespoke Chocolate Products - Bespoke lollipops, coins, medals, bars and truffle boxes. Your clients will love the attention to detail, this will go a long way when developing relationships with current and prospective customers.
On each and every product within the Baxter Murray range, you can add your logo and marketing message to multiple packaging styles for branding purposes. And what's more, you can choose from a selection of freshly made and delicious white, dark and milk Belgian chocolate.
Once you have customised your chocolate solutions to your exact likening, just enter in your desired quantity and delivery schedule. The delivery charge is part of the overall price, and we offer a fast-track delivery service for those who need chocolate in a hurry.
Order online today at baxtermurray.co.uk!