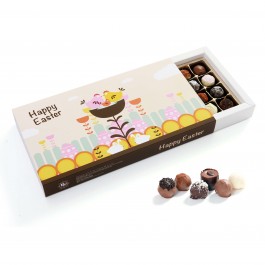 Corporate Easter 32 Chocolate Premium Box
An impressive gift of 32 luxury handmade chocolate truffles, inside a premium box professionally printed with your details.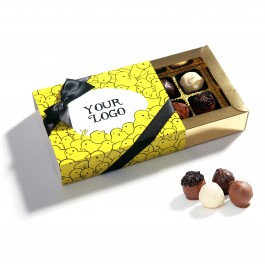 Easter Corporate 6 Chocolate Premium Box
A luxury corporate branded box filled with an assortment of our award winning chocolate truffles, the perfect Easter treat for your clients!
Easter Promotional 6 Chocolate Sleeve
6 assorted award winning truffles, in a quality 'Header Card Sleeve' ideal place setting. Perfect for sponsors & dinner events.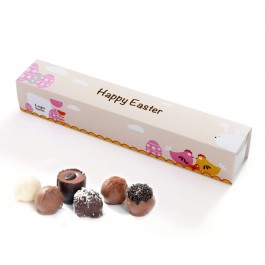 Easter Customised Chocolate Box
6 assorted award winning truffles, in a quality box branded with your business details.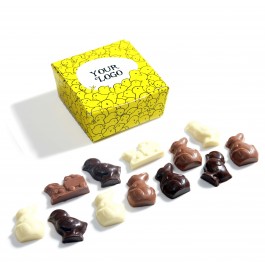 Easter Mini Chocolates Box
Delicious solid chocolate chicks & bunnies in milk, white & dark Belgian chocolate.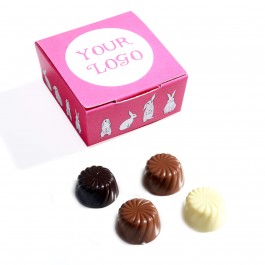 Easter Promotional Chocolate Box
Cost effective Easter promotional 4 assorted solid Belgian chocolate box.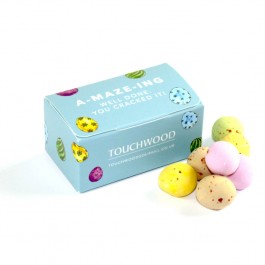 Mini Egg Favour Box
Mini egg box with your business logo and greeting full colour quality print.
Easter Corporate Chocolate Boxes
Our freshly handmade multi award winning truffes will delight your audience this Easter. They are suitable for all ages and both sexes, offering alcohol free truffles as well as a selection for those who enjoy a wee tipple. All boxes are chocful of your favourites from our menu of milk, white and dark soft centred truffles.
All boxes are professionally printed full colour to your specification, celebrating your logo, marketing message and seasonal greeting. A luxury corporate chocolate gift which will add the wow factor to your business git giving this Easter.
Order the quantity you need and choose the delivery option which suits your business best. We'll delivery in bulk to one address, deliver in smaller batches across all your sites or post individually to the individual addresses of clients and staff.
Call us today on +4428 9047 1310, luxury chocolate corporate gifts are only a call away!