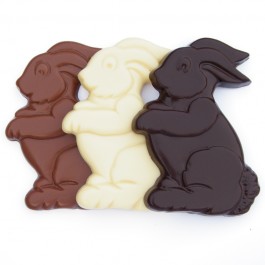 Chocolate Easter Bunny
Perfect promotional Easter chocolate gift to send direct to clients & staff working from home. Click for more details.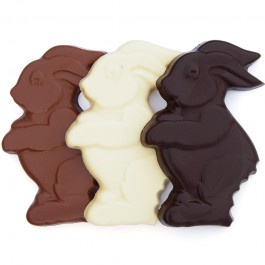 Bite Me Chocolate Bunny
A chocolate Easter bunny which will give your clients & staff a giggle. The perfect smile inducing corporate gift.
Promotional Chocolate Easter Bunnies
A solid chocolate bunny your clients can really get their teeth into ... ...
All bunnies are freshly handmade by our team of skilled chocolatiers, beautifully finished and packed on full colour cards personalised with your business greeting, QR code and Easter marketing message. You can choose from milk, white or dark Belgian chocolate, all of which are palm oil and gluten free.
Order the exact quantity you need and then select the delivery option which suits your business best. We offer a fulfilment service, allowing us to post your gift direct to the door of your clients and home working staff. We also offer the option of shipping in batches across your business sites or we can arrange a single pallet drop.
If needed we can add your supplied literature to individually dispatched bunnies or if requested we can produce and insert a gift card to eack pack for you. Our fulfilment service is very flexible and will work around your requirements. Get in touch today, call 028 9047 1310 for a quotation.