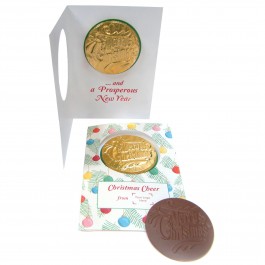 Corporate Christmas Card A5
Adding a Belgian chocolate coin, creates a more engaging & memorable gift than a traditional card.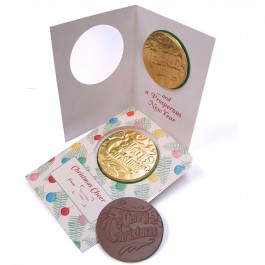 Corporate Christmas Card A6
Merry Christmas gold chocolate coin peels off easily, leaving the card in tip top display condition.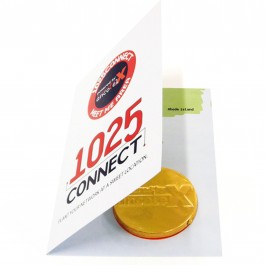 Bespoke Corporate Chocolate Christmas Card
A5 full colour card, carries your seasonal message and bespoke chocolate coin. Perfect for posting.
Corporate and Business Christmas Cards ... ... with a contemporary twist !
Christmas is a time of year full of traditions, its also a time that allows us to be creative and produce innovative Christmas corporate gifts that our clients and staff will love.
Whatever the reason you have to send a Christmas card, whether it's to say thank you to your colleagues for a year of hard work or to put a smile on the face of your customers, we understand just how important it is to send a greeting to staff and customers wishing them the best of the season and re-enforcing your business relationships.
What's really important is that your Christmas card fits in with your branding and market messages. We can add your branding and seasonal greeting to our card design or we can send you an artwork template to populate and return to us for printing. What's extra special about our Christmas cards is that they not only are produced in the quantity you need, to your exact artwork specification, they also boast a handmade Belgian chocolate coin, embellished with a Merry Christmas greeting. The chocolate coin is attached to the card and peels easily away for the receiver to enjoy, leaving your card intact and on display.
Our chocolate corporate Christmas cards are a subtle way to promote your business while wishing your audience a Merry Christmas. We can supply your cards in bubble envelopes to ensure safe postage, deliver your order in bulk to your office or post individually to your customer list.
Get in touch today, we're ready to help with your Chocolate, Corporate and Business Christmas Cards !