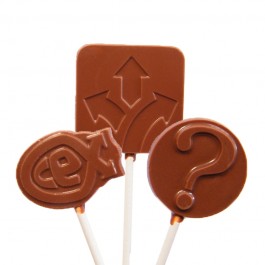 Bespoke Chocolate Lollipops
Bespoke & chocolate logo lollipops are loved by young & old alike. They are perfect for all promotional giveaways & business celebrations.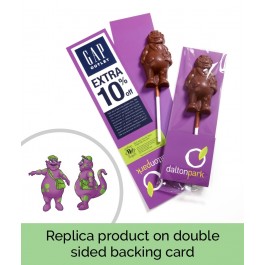 Bespoke Packaging Styles
Belgian chocolate lollipops taste and look amazing, completed with premium quality branded packaging they're fantastic promotional giveaways and direct mail gifts.
Bespoke and customised chocolate lollipops crafted for you by chocolate experts !
Bespoke chocolate lollipops are attention grabbing promotional chocolate gifts that aren't just for kids.
They taste amazing and are impactful, engaging marketing tools your clients will appreciate & chat about at all sorts of business events. Trade shows, conferences, at product launches, even as a desk drop,the list of uses is endless.They can be moulded into the shape or design of your choice. We have the expertise in -house to produce chocolate moulds and packaging to your specification. For example our customers have requested customised chocolate lollipops in the shape of their logo, as a replica of their mascot or even a re-production of their product. The branding opportunity doesn't stop there, all lollipops are individually packaged in the full colour style of your choice.