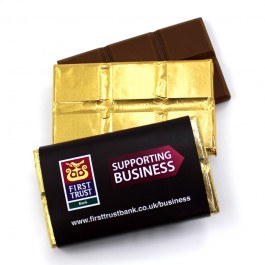 Small Promotional Chocolate Bars
Promotional chocolate bar perfect for direct mail campaigns. 90 x 50mms.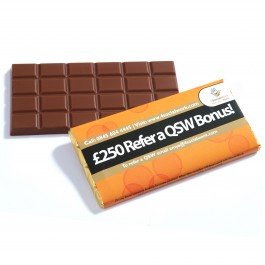 Med. Promotional Chocolate Bars
Free artwork assistance & professionally printed full colours wrappers.155 x 75mms.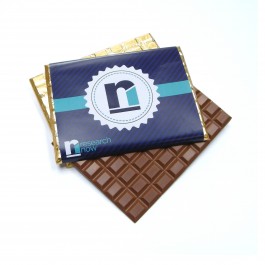 Large Promotional Chocolate Bars
An impressive and delicious over sized chocolate gift for clients & staff. 195 x 150mms.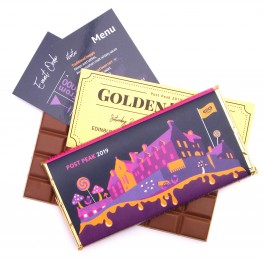 Golden Ticket Chocolate Bar
Our Belgian chocolate 'Willy Wonka Golden Ticket' bars are perfect for all marketing activity.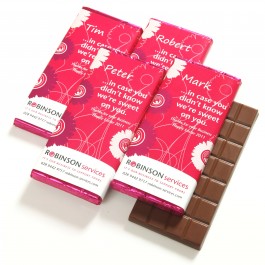 Personalised Chocolate Bar Wrappers
For the personal touch, add their name to the wrapper.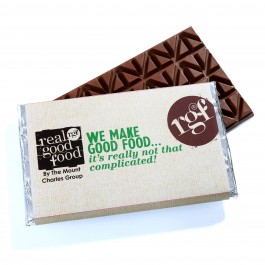 Giant Chocolate Bar
Branded Wrapper Chocolate Bar 20 x 33.5 cms Big enough for the office to share!
Chocolate Bar Fulfilment Service
A delicious branded Willie Wonka style bar & golden ticket posted direct to employees.
Promotional Chocolate Bars Personalised For Your Business Make Excellent Corporate Chocolate Gifts !
Promotional chocolate bars can be supplied in full colour branded wrappers or boxes, which can also conceal a golden ticket, invitation or marketing insert. We have an in-house graphic designer who is always on hand if you need help with your packaging design. All our bars are handmade to order from luxury Belgian chocolate, we offer milk, white or dark and you can on request add a flavour or ingredient to make your chocolate bar super unique for you. We offer a selection of lead times - 2, 4 or 6 weeks as well as a fast track service if you are short on time.
Promotional chocolate bars by post. Why not make use of our chocolate fulfilment service, we'll pack your bars individually, in small batches or bulk and ship them out to your team or customers in offices,workplaces or at home throughout the UK, Ireland or Europe.
Call us today, we'll be delighted to craft a custom chocolate bar, personalised especially for your business..